[NOTE from the future that is 2019: This is one of a number of posts I've migrated over to the site from my internet past that's been scrubbed in one way or another. This particular post is an obit I wrote about my boyhood favorite comic artist Dave Stevens, published over 11 years ago on the "Indie Jones" blog I co-wrote during my first job at Wizard Magazine.]
I just saw on Newsarama and followed the link over to Mark Evanier's News From ME that Dave Stevens has passed away. While many comic fans may know Stevens as "the guy who created The Rocketeer," his talent and creativity deserve much wider recognition than that Hollywood factoid affords.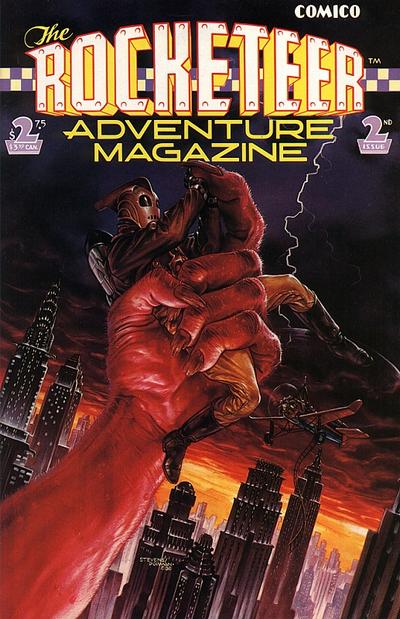 In some ways, it's a real shame that Stevens was such a perfectionist of an artist. His reputation for taking an incredibly long time to complete almost anything to his own personal standards meant that all comic fans ever got from the artist were a handful of issues, covers and pinups during the late '80s and early '90s. Then again, the fact that Stevens took so much time and care with every picture he ever drew makes finding his work a complete thrill and a joy.
Like most folks, I first came across Stevens' comics thanks to the film version of The Rocketeer that Disney released in 1991. The general rap on the film starring Billy Campbell and Jennifer Connelly is that despite a big marketing push from Disney and good reviews, the film failed to connect with audiences and had no real franchise potential. While I'm sure the box office receipts backed that position up, little Kiel Phegley would beg to differ.
After seeing "The Rocketeer," I was Cliff Secord crazy. I spent that summer trying to stuff my backpack until it fit the appropriate aerodynamic shape and trying to glue a fin to the back of my baseball cap. On the merchandising end, I snatched up every piece of Rocketeer paraphernalia I could convince my mother to buy me from issues of Disney Adventures featuring cast interviews to water-powered rocket toys. But the crown jewel in my collection were Stevens' original comics, which even during the film's release were hard to find.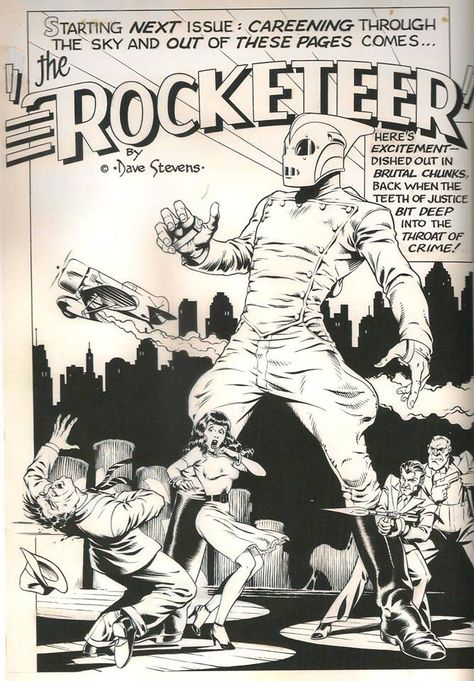 Published across four different comic companies and landing finally at Dark Horse, The Rocketeer comics are one of those rare instances where the art and story are somehow equally idealized and authentic. I'm sure LA airfields of the '40s were never as exciting and spy-filled as Stevens drew them and its women weren't quite as glamorous either, but Stevens made you believe that America's Golden Age of comics was also its Golden Age of style.
It took me the better part of five years to track down every installment of the original Rocketeer serial and even longer to meet Stevens. I have to admit, the brief meeting we had wasn't the shining pillar of awesomeness you expect when you meet your artistic hero. I was 18 and at San Diego for the first time. When I realized Stevens had a table, I went straight there to shake the man's hand and let him know that I owned every issue of The Rocketeer ever published. "Well, there were only like seven of them," Stevens replied before I bought my Bulldog Studios T-shirt and shuffled along. I'm pretty sure that was the exact moment I realized that I wasn't going to be seeing any more issues of the comic. Like so many of his artistic heroes of the Golden Age, Stevens never got enough credit or money from his creation to sustain a long term career in the funny book biz, instead earning his keep with illustration and pin-up work. Still, I've always been happy to have the few Stevens comics I could find on hand, and on a pure entertainment level, they remain my very favorites.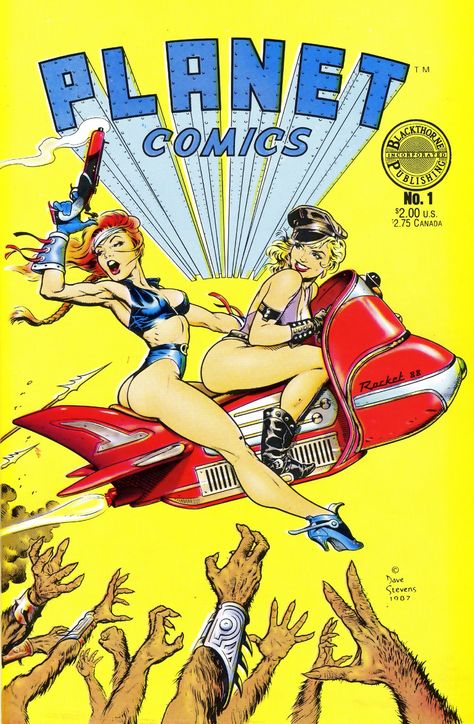 I was also lucky enough to make the acquaintance of Stevens friend and the star of "The Rocketeer" film, Billy Campbell in perhaps the nerdiest encounter of my entire life. In the summer of 2002, I was an editorial intern at DC Comics, and on a July afternoon when I was out to lunch, I spotted Campbell eating lunch at a deli around the corner from the offices. In what was either the stupidest or balliest moment of my life, I approached my boyhood hero to tell him how much of a fan I was and asked if it was true that as a kid he'd wanted to draw comic books instead of act (I'd read that somewhere in a magazine).
Campbell was an extremely cool guy and a big comic nerd, so I flipped out when he took me up on my offer to show him around the DC offices, which earned more than a few turned heads from staffers saying "Did the intern just bring in The Rocketeer off the street?" He told Mike Carlin and I about Stevens' current life as Bettie Page's caretaker (the artist based Secord's girlfriend "Betty" off of the famed pin-up girl), and Carlin told us about an aborted Rocketeer/Superman crossover that would have been written by Stevens and featured Cliff teaching a '40s Clark Kent how to fly (how cool would that have been?).
After wandering around a bit and pointing out a few of his favorite Golden Age Batman covers, Campbell was nice enough to sign an autograph for me: "To Kiel – Thanks for the tour, dude! – Billy Campbell" I keep it in the back of my first Rocketeer trade along with a photo I snapped of the Bulldog Café set on the Disney Studio tour I went on in 4th grade and a handful of other small scraps of paper that remind me of how good Dave Stevens was at what he did.
If you get the chance, buy some of his comics. You won't regret it.
---
Above is the cover to The Rocketeer Adventure Magazine#2, the first Dave Stevens comic I ever bought, the original art for the Rocketeer's first appearance in Starslayer and the front to Planet Comics #1, which hangs above my desk here at Wizard. For more on Stevens, be sure to check out a remembrance over at The Beat.